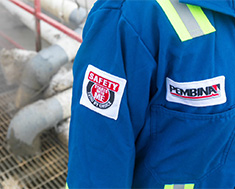 Our expectations are high and our rewards reflect this: We treat our people well - whether it's through our compensation package, community engagement or volunteer opportunities.
 
Pembina provides everything you could want in an employer. We are a proud recipient of Canada's Top 100 Employers (2018 – 2022), Alberta's Top Employers (2014 – 2022) and an Employer Partner of the Canadian Centre for Diversity and Inclusion. We are also a strong supporter of Skills Canada.
Looking for a challenging and dynamic career? Create a Profile with us.