Pembina's Damage Prevention and Public Awareness Programs are dedicated to enhancing the safety of those living and working near our pipelines.
We regularly keep in touch with our landowners, tenants, business owners, Aboriginal communities, municipal and emergency officials, excavators and members of the community through educational outreach, so that all stakeholders understand their role in preventing damage to our pipelines.
Pembina conducts regular inspections, maintenance, and testing to confirm that our pipelines are operating safely and monitors the operating condition of the pipelines through our state-of-the-art control room.
Our commitment to excellence in safety is reinforced through our daily operations by developing stringent standards, reviewing potential hazards, conducting regular safety meetings, implementing contractor screenings and inspections.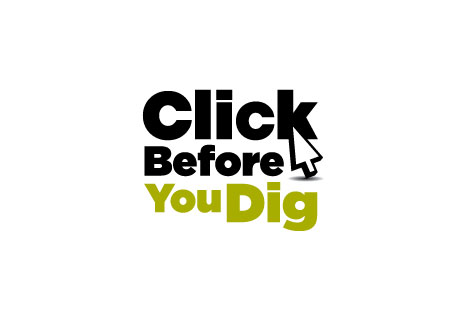 Canada: Click Before You Dig
Whether you're planting a tree, digging a trench or building a fence, you need to be aware of the underground utilities on your property before you dig. Call your local One-Call Centre or visit ClickBeforeYouDig.com
 three business days (five in Ontario) before starting your job.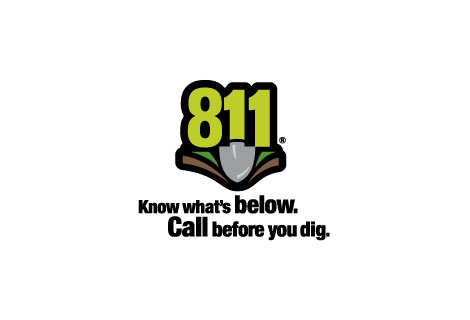 United States: Know what's below. Call before you dig
Anyone who plans to dig should call 811 or go to their 
state 811 center's website
 a few business days before digging to request that the approximate location of buried utilities be marked with paint or flags so that you don't unintentionally dig into an underground utility line. Learn more at
call811.com
.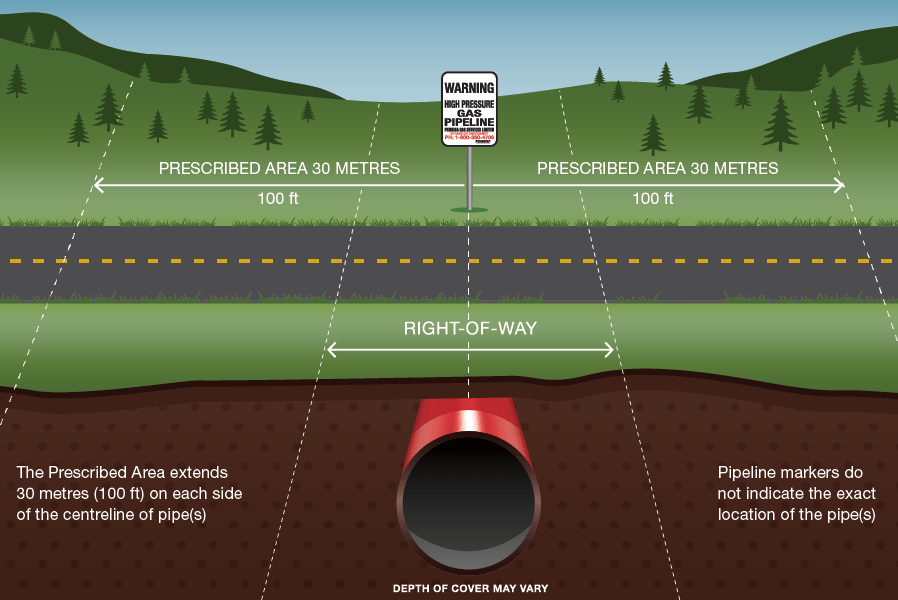 How to spot a pipeline
A pipeline right-of-way (ROW) is the strip of land where the pipeline is located. The width of the ROW may vary depending on factors such as pipeline diameter or the number of pipelines in an area. The area extending 30 meters (100 feet) on either side of the pipeline is called the Prescribed Area / Controlled Area.
ROW corridors are often recognizable because they are clear of trees, buildings and other structures. The ROW enables Pembina employees and contractors to access the pipeline for operations, inspections, maintenance, testing, and in the rare event of an emergency.
Pipeline marker signs show the approximate location and not the exact location of the pipeline. Only a Pembina representative can identify the exact location of the pipe.
Regulations restrict certain activities near the ROW that could pose a threat to public safety and the safe operation of the pipeline. These activities may need written consent from Pembina. Contact us if you're unsure if your activity requires consent.
Planning work around Pembina's pipelines
Some of the biggest threats to pipeline safety come from daily activities happening in the community. Unauthorized construction, development, encroachment and digging activities can cause serious damage to pipelines and put those near them at risk.
To protect people and the environment, federal and provincial/state laws require anyone who is planning a ground disturbance or other activity near a pipeline ROW to contact the local One-Call Centre in Canada (clickbeforeyoudig.com) or the United States (call811.com) in advance of any work.
The One-Call Centre will notify owners of the buried infrastructure in the area who will send out a company representative to locate and mark the facilities using paint, flags or other marks. A Pembina representative may contact you to discuss your planned activities.
Written consent from Pembina is required for:
Any ground disturbance activity within 30 meters from the pipeline
Operating vehicles or mobile equipment across the ROW, outside of highways or public roads
Construction of a facility across, on, along or under a pipeline or ROW
Using explosives within 300 meters
Storing anything on the ROW
Any activity that the company deems may negatively impact the safety of the pipeline
Plan ahead. Written consent may take several weeks to obtain and is seperate from the One-Call process.
What is a ground disturbance activity?
Ground Disturbance is any work, operation or activity that results in the disturbance of the earth.
Any activity that results in a disturbance of the earth to a depth greater than 30 centimetres (12 inches)
Any activity that reduces the earth cover over any pipeline to less than the cover provided when the pipeline was installed
Cultivation activity to a depth greater than 45 centimetres (18 inches) below the surface of the ground
Common ground disturbance activities include, but are not limited to: tree planting; building a fence or pounding in posts; excavating, trenching or digging; deep tilling; tunnelling, boring or drilling; auguring; topsoil stripping, levelling or grading; quarrying, seismic exploration or blasting within 300m of the ROW; installing drain tiles; ditching; clearing / brushing; etc.
How to obtain written consent
Email landrequests@pembina.com with your name, legal land description, and a description of the work you would like to do.
Pembina will contact you and walk you through how to submit a request for permission to proceed with your activity in, along or adjacent to the ROW.
Pembina will review your request once your information has been received. Pembina may:

Grant consent with standard conditions; or
Grant consent that requires specific conditions be met to ensure safety; or
Work with you to find solutions and resolve issues regarding the consent request; or
Deny consent in the rare situation that a feasible safety solution cannot be found.

Once consent has been granted, you must:

Make a locate request to your local One-Call Centre at least three business days (five days in Ontario) before beginning the work. Pembina will arrange for a Company representative to be onsite to inspect the area at time of crossing.
Always keep the written consent and documentation onsite.
Follow all terms and conditions laid out in the consent, and all instructions from Pembina personnel onsite.
You are our partner in safety
If you suspect a leak
Although a pipeline leak is rare, it is important to know the warning signs.
You might see:
a pool of black liquid or oily sheen on a water surface
dead or dying vegetation in an otherwise green area
dirt being blown or appearing to be thrown into the air
a white vapor stream or mist-like cloud over the pipeline
unexpected frost or ice on the ground
discoloured snow or vegetation
You might hear:
an unusual hissing, blowing, or roaring noise
You might smell:
a petroleum or hydrocarbon smell
What to do if you strike a pipeline or suspect a leak
Whether it appears there is damage or not, follow these steps:  
Stop all excavation and construction work and move away from the area on foot; let others know to do the same
Shut off all equipment and machinery
Call 9-1-1 as soon as you are in a safe location
Call Pembina's emergency number 1-800-360-4706 and explain the situation
Do NOT attempt to operate any valves
Do NOT begin work again until a Pembina representative authorizes you to do so