The theme for Earth Day 2021 is Restore Our Earth™ and Pembina supports taking action that will make lasting change.
While helping to provide affordable, reliable energy to power the economy, raise and maintain global living standards. Pembina is committed to reducing our impacts on the environment and enhancing local communities.

Applying mitigation measures is one way that Pembina strives to minimize the environmental impact of construction and operation of our assets. Mitigation describes actions intended to lessen potential impacts to natural resources. This might include finding ways to reduce water consumption or implementing low emissions technologies to minimize emissions at our operations.

In addition to our mitigation actions, Pembina also looks for other ways to make a difference. Pembina's Prince Rupert Terminal shows such an approach where Pembina had a positive impact on the environment through remediation.

The Prince Rupert Terminal (PRT) is a propane export facility, and it's located on Watson Island, B.C. Historically, Watson Island was home to an operating pulp mill facility from 1955 to 2001, when the pulp mill went into bankruptcy and the facility was abandoned. Through tax recovery, the City of Prince Rupert became the owner of Watson Island. In 2015, the City began decommissioning and demolishing the former mill's infrastructure. In 2017, Pembina leased a portion of Watson Island for PRT.

The former mill site was considered a contaminated site under provincial legislation. Contaminated means the site had concentrations of chemicals or other materials in the soil or water that are above allowable levels. Once remediated, the former mill site had good potential for redevelopment, also known as "brownfields."
Throughout the regulatory process, Pembina did not waver from a collaborative effort. The City of Prince Rupert and the Pembina team regularly consulted with the BC Ministry of Environment and Climate Change Strategy to understand the regulatory requirements for remediation of Prince Rupert Terminal lands and ensure compliance pertaining to soil, groundwater and the adjacent marine environment, said Richard Pucci, Director, Operations Department, City of Prince Rupert.
Determined to re-purpose the area for other industrial uses, Pembina undertook extensive work including:
Spending approximately $12 million on the remediation process which included: demolishing and disposing of the pulp mill's structures and foundations; remedial investigations of soils and groundwater; and delineation and disposal of contaminated soils.
Removing over 77,000 m3 of contaminated soil.
Obtaining third-party confirmation of the effectiveness of risk controls.
Following the completion of this work, the BC Ministry of Environment and Climate Change issued the remediation approval, which allows a portion of Watson Island to be re-purposed for new development opportunities. "Pembina's propane export terminal in the Prince Rupert area is a welcome investment in our province. I am glad to see companies like Pembina finding ways to repurpose land to deliver sustainable development solutions. The project is creating local jobs and enhancing partnerships in the North Coast that will benefit local and Indigenous communities for decades to come," said The Honourable Bruce Ralston, Minister of Energy, Mines and Low Carbon Innovation, British Columbia.
Pembina's propane export terminal in Prince Rupert went into service April 9, 2021.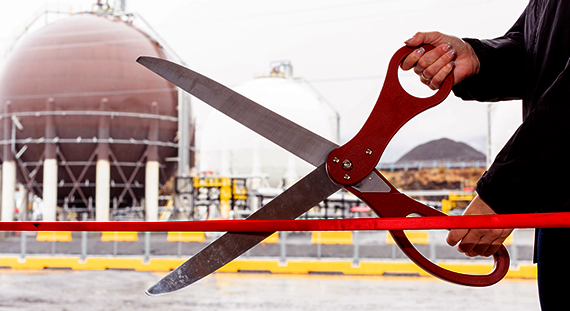 Watch the official grand opening
Site Transformation Timeline
2016
Prior to clean up activities
2017
Site decommissioning commenced
2018
Site decommissioning completed
2021
Pembina propane terminal construction completed, turning an environmental liability into an economic asset