We are proud to once again be recognized as one of Canada's Top 100 Employers.
In addition to Pembina's longstanding position as one of Alberta's Top Employers, for the fifth consecutive year, we were named one of the country's best employers in the 2022 competition.
"Everyone wants to be in a company that's forward-looking," says Janet Loduca, Senior Vice President, External Affairs & Chief Legal and Sustainability Officer. "Whether it's lowering greenhouse gas emissions, partnering with Indigenous communities or increasing diversity, these are initiatives that get people excited and proud about where they are employed and why they want to come to work every day."
The Canada's Top 100 Employers project is a national competition to determine which employers lead their industries in offering exceptional workplaces for their employees.
Here are some of the reasons why Pembina was selected as one of Canada's Top 100 Employers (2022):
In addition to taking care of its employees through in-house safety and mitigation programs, including work-from-home programs followed by a formal "Return to Office Orientation" program for returning employees, Pembina has invested nearly $600,000 towards pandemic relief efforts in the wider community, focusing on five key priority areas, including food security, front-line health care and first responders, social services, mental health and well-being, and education.
Pembina invests in the education of current and future employees, offering tuition subsidies for employees pursuing job-related courses as well as generous academic scholarships for children of employees (to $5,000 per child).
Pembina's new employees are enrolled in the defined contribution plan -- the company also encourages employees to share in the company's successes through share purchase and year-end bonus programs.
Check out
Pembina's full profile
and learn more about what makes us a top employer.
Disability Employment Awareness Month Award
Pembina is committed to diversity, equal opportunity and ensuring our employees have the ability to thrive in an inclusive environment. This year, Pembina was honoured with the Disability Employment Awareness Month (DEAM) Award which recognizes innovative organizations who are leading the charge in employing and accommodating Albertans with disabilities.

Lionel Migrino, a member of Pembina's Talent Development team, says a critical challenge of living with a disability is that society generally does not give people like himself a voice. "Just because we have a disability, doesn't mean we have nothing to contribute," he says. "People with disabilities are some of the most resilient and adaptable people I know – because we have to be. We can offer a diverse perspective and bring tremendous value."

Lionel says Pembina offers a safe space and platform to share his personal story. "I have opportunities to help people understand my ability, and not focus on the disability. I have a voice, meaningful and challenging work, and a purpose. And most importantly, I have an incredible team that supports and empowers me, every step of the way," he says.

"When our employees represent the makeup of our communities, it makes for a healthier organization," says Vicky Morales, Supervisor, Building Services and champion of hiring people with disabilities. "Employees feel good about Pembina being a socially responsible company, and that leads to higher engagement and trust, and demonstrates that we are advocates for our communities."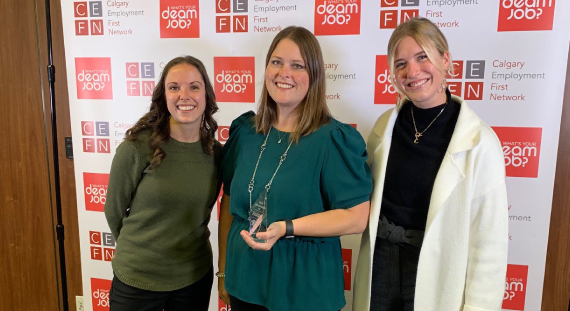 Team accepting the 2021 DEAM Employer Award